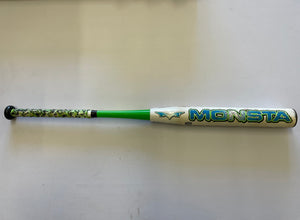 2015 Monsta
The 2015 Monsta was quite different from the Monsta models released prior.
This bat was our first dual stamped bat ever, certified for ASA and NSA. 
Because it was certified for NSA as well, it had a completely different construction. This allowed it to be used with many more types of softballs and even allowed play in cold weather. This model was truly a tank, and many are still in good condition from the 200-300 models made in 2015.
This softball bat was originally intended to be a USSSA model. It passed testing to be certified as a USSSA bat, but due to some philosophical differences between Monsta and USSSA, licenses and relationships between the two parties were canceled for the next several years.
This bat also featured the smallest FIB we've ever used.
It was available in the original color scheme, as well as gold and purple versions made later for LLS charity.
These bats were offered in 26-30oz, each with the option of being Balanced/Endloaded and Stiff/Flex.
The Gold version was only available in 26-27oz Endload Stiff,
and the Purple version was only available in 26-28oz Endload Stiff.
---